Do you read marriage blogs (I mean, hopefully you read at least one….THIS one.) Marriage is referred to as many things, I'm just as guilty of that as anyone else, but I think the best way to look at marriage is as a comedy.
There are tears, there is drama, but there is love and laughter as well. So in that vein, I wanted to do a blog link up. The primary focus of my blog is well, marriage, (Go ahead think DUH Stephanie…I thought it myself) and there are a TON of Mommy blogs out there. Which is great an all, unless you know you don't have kids but you do have a husband. Or a wife, but typically it's a husband.
Sometimes we too need advice on what to do or how to handle a situation. Lord only knows I can't be the only wife out there who looks at her spouse and goes "That is it! Where is the damn receipt and return line?" Granted, hours later I may look at him with hearts in my eyes and think he's a real life "Prince Charming."
So here's what I'd love to do: Link up a blog you love, your own blog, a random blog you've found as long they talk about MARRIAGE. Once I have all the links I'll great a page up in the header that is devoted just to other great marriage blogs. This way we all have a way to go find advice from other great married couples for those "WHY DID I MARRY YOU?" moments all the way to the "How do I say I Love You even more?" moments.
Grab this button to tell others that you are a part of this Marriage Blog Directory: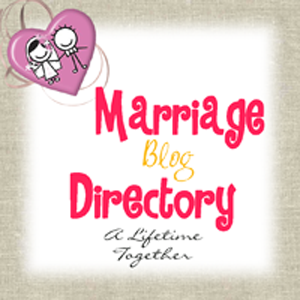 Related posts: